Today's #throwbackthursday goes all the way back to the Summer of 4th grade when my husband Gregg and I met in "Summer Enrichment'' poetry class. Knowing each other for so long, we were friends for years before we saw each other romantically. And when we decided to get married, we wanted to grow together and lean on each other without losing our independence and our individual dreams. 
So for our wedding ceremony, we wrote our own vows, and shared poems and songs, including Bill Withers' "Lean On Me," and Stevie Wonder's "You and I." We promised to be there for each other, to lift each other up in dark times, and to help each other remember who we really are when we lose sight of it. 
Years later when my niece Gabrielle asked me to sing at her wedding, I decided to write a new song for the occasion. I was inspired by the promises my husband Gregg and I made to each other at our own wedding, classic songs by Bill Withers and Stevie Wonder, as well as the joys and challenges of our life together. My co-writer Diana Rose Dawson, who also married her best friend, brought perspectives from her marriage to her husband Joe.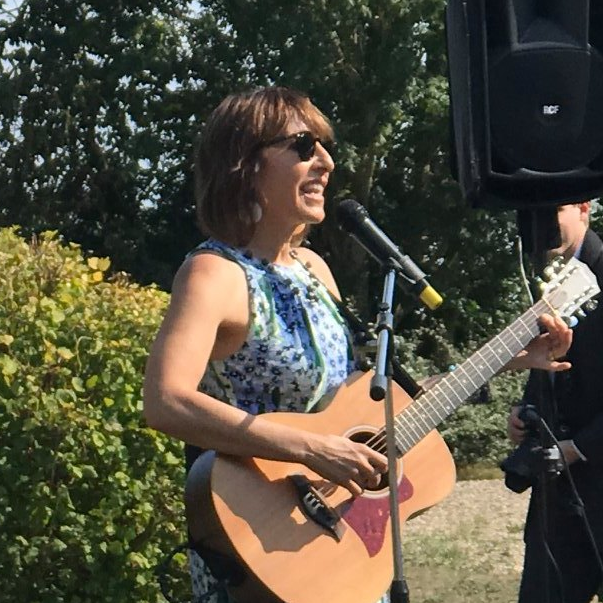 (The picture is me playing the song at the ceremony, at a beautiful farm/garden just outside Versailles, France) 
Although it was originally written for the occasion of a wedding, Count On Me is a message of universal unconditional love. The lyrics apply equally to non-romantic love, like the love of a parent for a child, the love of sisters, brothers, friends and family, including fur babies. 
You can listen to it right here on my music page
or on the streaming/download platform of your choice https://found.ee/countonme-1 
• 
• 
• 
• 
• 
#throwbackthursday #newmusic #countonme #patriciabahia #dianarosedawson #duddybrown #songwriting #songwriter #singer #indieartist #indiesongwriter #musicmaker #femalesongwriter #bucketlist #bucketlistlife #bucketlistpassionista #positivemusic #sync #filmtv